Synod Special Coverage
Feb 03, 2023

The Document for the Continental phase of the Synod (DCS) is the privileged instrument through which the dialogue of the local churches among themselves and with the universal church can take place during the continental stage. To pursue this process of listening, dialogue and discernment, the reflection will focus on three questions:

Feb 03, 2023

We, the clergy, religious and laity in the Diocese of Penang have participated in reflecting on the Document for the Continental Stage.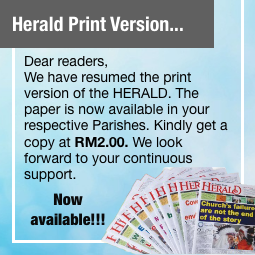 Tweets by heraldmalaysia
What prevents us from experiencing resurrection?
Jesus offers us new life. He will call us by name and loose that which binds us. And then, as others witness the change that Jesus makes in us, they, too, will come to believe and will find new life in Christ.